The Buffalo News Final
---
222 Pages Vol. CCIX-No.43 November 22, 1984 25 Cents
---
Judge Rips Griffin, Bars Sculpture Razing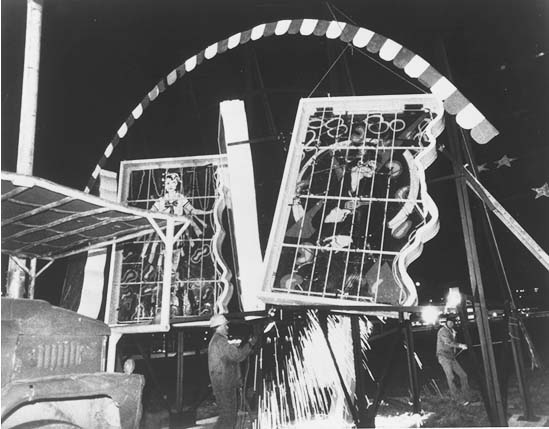 Workmen begin dismantling the controversial sculpture Green Lightning by artist Billie Lawless under the cover of darkness,

---

By Matt Gryta

A state judge who criticized Mayor Griffin's attempt to dismantle the controversial "Green Lightning" sculpture Wednesday afternoon ordered city wrecking crews to stay away from the art work until after the Dec. 3 trial in the dispute,

State Supreme Court Justice Vincent E. Doyle also ordered sculptor Billie Lawless to keep his hands off the switches of the neon tubing.

Refusing to lift his own day-old restraining order barring city action against the $80,000 privately financed art work, the judge also rejected efforts by the Mayor's attorneys to obtain court orders allowing the completion of the dismantling of the final two of the four controversial neon-lit sections of the Lawless piece.

"There shall be no further action on either side." Justice Doyle ruled before transferring the case for assignment to a judge for a trial on Mr. Lawless' bid to keep the sculpture on City land for the next year.

After refusing to send the pre-trial proceedings to another judge because he is a former law partner of Michael J. Brown, Mr. Lawless' attorney, Justice Doyle told Gregory J. Dudek and Thomas Amodeo, the mayor's lawyers, he considered the mayor's out-of-court actions "abhorrent to my understanding of the laws of this community."

Justice Doyle chided the mayor for failing to come to court before ordering the dismantling of the art work.

Justice Doyle, who issued a restraining order halting the work about two hours after a private contractor began dismantling the Lawless work Tuesday evening, criticized what he called the mayor's "misplaced" ideas about the legal limits of the mayor's "authority" to act in the art controversy without "court sanction."

The judge rejected Mr. Dudek's contention the the mayor acted properly under the city's police powers to take immediate action in any situation to safeguard the public.

Justice Doyle told the mayor's lawyers the mayor should have begun court action last week, before the controversy erupted.

After Wednesday's court session, Mr. Brown refused to unveil publicly a disputed scale-model of the art piece that the Urban Renewal Agency viewed before authorizing installation of the sculpture.

Mr. Lawless said he was "ecstatic" with the Doyle rulings.

"I think it was a great victory for the City of Buffalo," Mr. Lawless said. "It illustrated that the mayor is not above the law, and I think its a great country."

In court Wednesday, Mr. Dudek repeated the city's contention that the neon figures graphically depict male genitalia, insisting the Urban Renewal Agency wouldn't have authorized installation of the LAwless work had his scale model clearly depicted the neon tubing.