Wall Reliefs of Billie Lawless
- by George Howell
"Swizzle Sticks."
"Swizzle Sticks?" How do you describe it?
Formally: like over-sized drawing templates, a white sheet of plexiglass casually overlaps a red-edged, solidly blue rectangle. A pink arabesque seems caught in a frozen hobble. Steel plumes float above the surface like a regal signature.
And once it's plugged in? Animately charming.
Don't forget the title, those buzzing "s's" and "z's" bubbling on your tongue like good liquor and cool mixers. Billie Lawless explains: "One of my early childhood memories is of cocktail parties my parents used to throw for their friends. Swizzle sticks always bring back those party images."
In fact, Swizzle Sticks might well be a summing-up piece for this series of neon wall-hangings by sculptor Billie Lawless. Here, assembled in an effortless cordiality, are all of his concerns: the retinal ringing of neon inlays on back-lit fluorescents, the slippery depth of layered plexiglass, the steel rods like free-hand lines drawn in space. All underwritten by a style poised between the childlike and the adult cool.
This exhibition at Buscaglia-Castellani Art Gallery, on the DeVeaux Campus of Niagara University, is the first time that Lawless has presented all nine pieces as a series. Done over the past year, they represent something of a departure from Lawless's other work.
Following in the tradition of American sculptors like Calder, Di Suvero, and Smith, Lawless is drawn towards monumental scale and massive weight. Clearly, there is an architect's love for such dimensions; but mass means resistance, resistance strain, and, for a few months last year, Lawless found himself unable to work because of a back injury incurred while moving one of his pieces. The present series emerged from drawings done while he recovered.
Indeed, Billie Lawless's career so far has been a study of determination in the face of change.
Born in Boston in 1950, Lawless studied sculpture at Rutgers during the early Seventies, made a brief sojourn to Notre Dame, and then returned to Rutgers once more. For a time, he made a living designing furniture - tables, chairs, and music stands which combined glass, steel and wood. He then came back to Buffalo in the mid-Seventies, recently completing his MFA at SUNY-Buffalo. Throughout all of these changes, Lawless was determined to make large-scale sculpture.
Dealing with monumental work, however, is never an easy chore. Take Cock-a-Doodle-Doo, recently installed on the campus of Buffalo State College. Even with the generous support of Dr. R. Bruce Johnstone, President of the college, this 7 ton, 20 ft. sculpture was a major undertaking for Lawless.
"The logistics of a project like this are quite complex. You have to deal with funding, contractors, supply problems.
Behind it all is a sense of the precarious: will it all come together?"
The back injury, sadly, speaks of Lawless's own physical limits. "I was depressed by the injury because it meant a change in the direction and scale of my work that I was unprepared for. That sudden loss of control was traumatic."
While he recovered, Lawless spent his time reading and drawing. Caged Souls To The Moon, drawn in April, 1981, and the subsequent drawings, soon became the ground work for the present series.
Lawless's wall-hangings present marked differences from the past work. For one thing, Lawless was forced to work on a smaller scale -instead of large metal pieces solidly commanding open space, the wall-pieces are made of lighter plywood-backed plexiglass, resting flat against the two dimensional space of a wall. And by including neon tubes and fluorescent plexiglass, the wall-hangings transmit light as an active sculptural element.
But the most surprising difference is in their whimsical tone, serious work on the edge of toyland. Possibly, the need to be taken seriously represses this charm in Lawless's larger, more formal pieces. One of the pleasures of this series, however, is its sparkling playfulness.
To get a better sense of the issues that Lawless is dealing with, let's take a closer look at the elements within the wall-hangings.
The ever present steel rods, masquerading as lines in space,
underscore Lawless's engagement with drawing. Actually, the steel rods have a long history in Lawless's growth as a sculptor: his first work, done in 1972, was a portrait of Sophia Loren composed out of steel rods. (That Lawless's next step would be to fill in the rod constructions with concrete points to his fascination with density and weight.)
Interestingly, Lawless's lines are reworkings of early Modernist graphic styles, referring to Klee, Miro and Kandinsky. "I want to acknowledge these 'masters'. Drawing from our historical antecedents is something I feel very strongly about as an artist."
But there is an even more important link to drawing. Working on his plans for the recent Viet Nam Memorial competition in Washington, D.C., Lawless discovered architectural drafting templates. Soon, they dominated his drawings.
In fact, this working method recalls Frank Stella's handiwork with that allpurpose drafting tool, the French Curve, in his Exotic Birds series: steel forms generated by the curve, cut, assembled, and painted in a helter-skelter pinache. Lawless's Dancing All Night at Z's Place comes closest to Stella, only in a more restrained manner. "The work I like is often highly expressive, but my own work is usually very tight. It has to do with my own inner tensions, keeping things very contained."
But let's not over-stress his line. Even though he treats his surface like a very thick page, Lawless the sculptor is ever present. In place of spontaneous expression, his goal is translation, casting one form into another. Here, playful reflections are transformed into the less personal but highly charged domain of neon signs.
"I was intrigued by the idea of the signs for years. I recognized associations between the complexity of these structures and the sculptural ideas I was drawn to. Late last Fall, I spent a couple weeks photographing old, decaying signs with the sense of actually beginning something."
Needless to say, the lighting is essential: the interplay between fluorescence and neon strips the pieces of their weight, creating an animated quality.
But these aren't the first works in which Lawless plays light against controlling materials. For example, one of his functional pieces a stained glass fireplace screen, exploits backlighting. "Actually, it achieves the projection-like quality of the 'tube,' a passive shower of light."
Lawless's first honest-to-goodness neon piece was his Sink Totem #2, assembled in Summer, 1979. Encircled in neon rings, a large plastic triangle balances in the drain of an old, found bathroom sink. Lawless sees the piece combining common elements in an uncommon way. "And there is even a macabre element here, mixing high voltage with water." (Metaphorically, of course.) While he liked the assemblage, Lawless chose not to pursue this as a direction. But studying his Caged Souls drawing, he began to see ways to adapt his drawings to an electric sign format, incorporating neon and other light sources. "There is something about neon signs that really hold people's attention. Maybe it's the electricity, all that power and buzzing, the life-force."
Along with that power comes elegance, the light creating a clean-edged hardness. Combine that pure lighting with highly controlled rod/lines, and you see the stance of a confirmed formalist, a man dedicated to an almost conservative aesthetic. But when the pieces start looking like kites, mice, and other curious entities, we suddenly recognize a visual wit peering out from behind those hard edges.
And the source of that wit? Toys.
For Lawless, as for an amazing number of artists in his generation, toys have found a place in the creative imagination. Toys hold our attention by creating a potential for humor. But that humor isn't
always pleasant: sometimes reassuring, sometimes sarcastic, the little world embodied in, the plaything is almost always loaded with suggestions.
And don't forget that toys refer to a world less clearly defined. Senor Mouse, for example, may be the one piece here that borders most precariously between art as a glowing assemblage of planes, and art as a metaphor of shared cultural images. Here is the Mouse, from Mickey and Mighty, to the little critter caught in a steel trap, to the plastic wind-up kind you buy in a vending machine.
Lawless's wildest venture in this genre is his The Politician and Protege from 1978, by no means a precious toy. While cutting and assembling card-board maquettes for an outdoor work, Lawless found himself suddenly piecing together the model for this strange character: on big #2 pencil axles, the Politician is a fierce three-wheeled being with jaws that snap as he roars along. And hot behind him, in tiny replica, is the protege. Satirical and stinging, they are like toys gone sour.
Clearly, that biting edge is nowhere to be found in the present series. Instead, Lawless is drawing from gentler associations. But even this might seem odd for a sculptor with Lawless's almost compulsive formality. Lawless attributes this blend of the imaginative and the rigid to formal expressionism, an idea he associates with Mel Edwards, an acquaintance from Rutgers.
"Edwards was very conscious of his roots as a Black artist. He'd make very large, room sized formalist structures from steel and chains, which rocked when pushed. He grew up in the South, and the rocking motions go back to sitting on the lap of his grandmother in a rocking chair.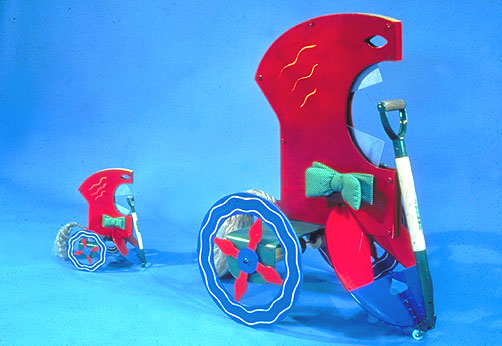 So even though formalist issues are approached, abstraction becomes a vehicle for emphatic content."
Lawless's titles hint at the way he deals with the private in the formal. As he worked on the sketches, sometimes the act would trigger an old memory. At other times, associations appeared after the drawing was completed. But whatever the order, the titles refer to personal things from either his childhood (Hootchie Skootchie, Surfacing) or his adult years (Dancing All Night at Z's Place).
"1 always felt uncomfortable about titling my work. In the mid-Seventies, though, after rethinking this, I felt the titles were an opportunity to provide some clues to the emotional content in the work."
Evocatively, the titles lead the works into another dimension - neon signs as visual poetry.
Drawing together such diverse sources, Lawless's wall-hanging series is a gentle collection of intelligent signs. With the nine pieces now completed, Lawless considers the series brought to a close. Having avoided heavier works, he sees the wall-hangings as a digression from more compelling concerns. He is ready to go back to monumental projects.
But as a group, these neon wall-hangings reveal a perception of materials and a visual charm that mark Billie Lawless as an artist with deep reserves to draw from.
"Swizzle Sticks?"
"Swizzle Sticks."

George Howell
Buffalo, February, 1982